You may be asking yourself that one needs to understand 50 + terms to be part of the watch community? At first, I perceived it that way. Yet In my opinion, just as there are only 12 hours visible on most watch dials (yes, that is a term you surely already know), only 12 are essential.
Why? Elevating certain interest in watches and horology is an enjoyable hobby. So let us keep it that way.
We are after all enthusiasts without being snobbish. I have known and talked with many in the snobbish category. Few have since then followed my thought of appreciating everyone's views and to solely focus on collecting as a fascination with timepieces and all things horology.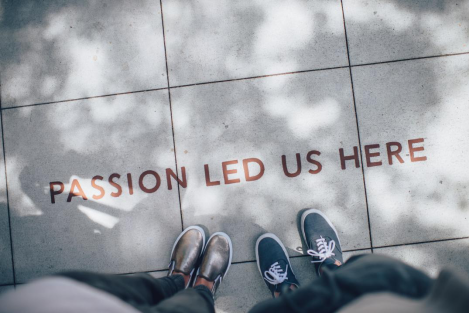 So Here Are The 12 Essential Watch Terms Every Enthusiast Should Know:
1. Mainspring/ Hairspring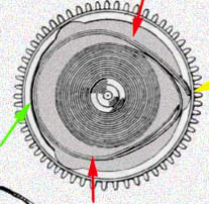 Coiled spring that supplies power to allow a mechanical and automatic watch movement (or caliber if your Swiss) to run. It is this mainspring that is wound either manually by the watch enthusiast winding the crown clockwise ~10 times or via the watch itself automatically internally in the movement.
2. Battery (quartz) or External Electrical Source (mechanical, automatic)
In order for a timepiece to tick away, we first need to identify if the watch uses a battery. If so, we can just replace it when it has run out of juice.
Think of it as running car engines. Mechanical cars need the driver to physically change gears, but that is not needed in automatics. The car changes the gears for you. This is comparable to watches. In horology, mechanical watches need to be wound physically for the mainspring to supply energy to the watch movement. Automatics, yes that is right, no winding required. Just pop it on your wrist and you are good to go.
3. Rotar In Automatic Winding Movements
Pendulum with weight to it, attached at the back of the watch to automatically wind the timepiece. In some watches, you can feel the rotor spinning away once every couple of hours. I savour those moments of half a second, especially when they are unexpected. Some rotors you can even hear them, well just about and the community label them as loud. That is choice, and I personally love it. The person in front of you would not be able to hear it, so it is a personal attachment with your watch. It is fascinating indeed.
4. Balance Wheel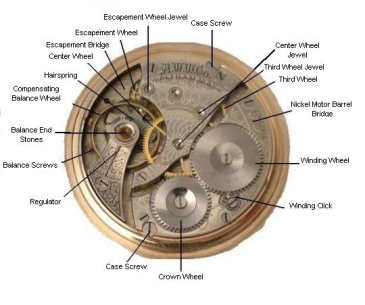 A wheel in a manual wind mechanical watch. It moves back and forth (oscillates) to keep track of time. How? This motion separates time into bitesize equal segments. A bit of physics in horology.
5. Balance Spring
Controls the movement and irregular back and forth (oscillation) motion of the balance wheel. This spring is quite fine, so be careful with handling of this. I own a vintage Avia, lovely timepiece but could not wind fully. However thinking I am a watch repairer, accidentally loosened up the fine spring. So be careful.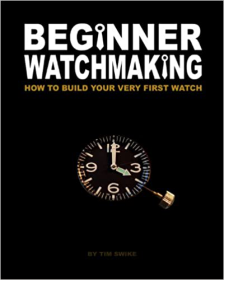 6. COSC
An official Swiss certified chronometer status given to a timepiece, to tell the watch enthusiast that the time keeping is extremely accurate and reliable. It stands for Controle Officiel Suisse des Chronometeres, and is funny enough, the name of the facility in Switzerland that test the timepieces sent to them. What do COSC measure? 15 days of recording the performance of time with variables of 3 different temperature environments, in 5 varied positions.
If any of your watches have this, you should be proud of it's achievement in construction of the movement.
7. Gear Trains and Jewels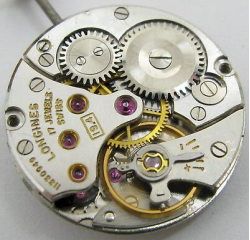 Just as we have gear boxes in cars, which you manually change or the car does it for you as long as you initially put it on drive, gear trains represent that system. Ergo, diffusing power from mainspring source and are given to the escapement, whose job is to move the minute and hour hands of the watch dial.
Jewels aid in this gear train system by acting as managers. These synthetic gemstones, mostly ruby or sapphire, reduce friction and daily wear of the gears found in manual and automatic timepieces.
8. Crystal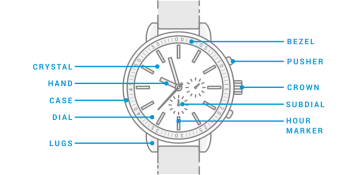 The top clear part on top of the dial. Can be domed, with its sole purpose is to protect the dial/watch face.
Sapphire crystals are better suited, as they are mainly scratch resistant, finer material and look more sophisticated. However when scratched, they are impossible to remove. They can crack if you swing you arm to a solid wall. But then again, who does that.
Acrylic crystals are also available. One of my quirky and unique timepieces which I adore due to the affordability, style and vintage Russian charm is my Vostok Komandirskie. This quirky little watch uses acrylic crystal and can apparently overcome nuclear power. However, does not look as good, feels lower end but one can easily remove those minute and harsh scratches using polywatch.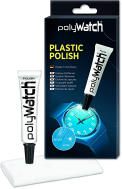 9. Dial and Case
Dials imply the watch face, the part you look at and admire the art of watch-making beauty. Oh yes, and to tell the time. Many varieties are available that certainly need to be investigated. Textures colours, types of watches such as field and diver watches. All with different complications and functions.
The case holds all of the watch parts together; dial, movement, other internal parts. Cases vary in size for preference in terms of appearance and the size of the movements within them. For my average size wrist, my sweet spot for case size is 36-40mm in diameter! Cases are made out of metal, stainless steel, even marine-grade bronze.
10. Complication
We know timepieces tell the time. Yet they may also possess additional complications. Some are chronographs (stopwatch). Some annual or perpetual calendars, though the latter is more advanced and not as affordable to acquire. Alarms may be utilised.
11. Function
Similar to complication, functions are the additional utility features of one's watch. Day and date may be displayed on the dial, dual time (GMT). Possibilities are endless.
12. Power Reserve
This is interesting and very useful at the same time. This is the number of hours an automatic mechanical watch can run on its own without being worn. Automatic watches are run by one's hand motion when wearing the timepiece as one goes shopping, to work, at home.
Some timepieces display a power reserve indicator on the dial, that display the number of hours reserved before being unable to operate. Again, set the time and wear the watch and it will start running again.
Conclusion:
These 12 essential terms should now allow you to explore and broaden your watch collecting journey. One of the main reasons why I am devoted with this hobby is the passionate community and the enthusiastic watch talk we all understand.
Don't forget to comment below and share this blog (below icons if on mobile or on the side if on the laptop) to friends and family, it will be greatly appreciated by me and your loved ones. Enjoy collecting!
ADDITIONAL SOURCES and Recommended Products:
Beginner watchmaking book: £9.69- how they work for beginners
My personal Watch box £20: 12 slots with soft pillows and jewellery drawer for keeping warranties, watch straps and rings if you have any.
PolyWatch Acrylic Scratch Remover